Behemoth-flash-sale-230221
Time is running out, our 25% OFF sale ends 1pm!
Behemoth Brewing Company
- Something Hoppy IPA-
Flash Sale
24x 330ml Bottles - 5.9%
- 25% Off! -
- 24 IPA Bottles -
- Delivered for only $75 -
- Sale ends at 1pm today! -
- Only 50 cases available -
- Same day dispatch -
Here's the deal, place your order by 1pm today (Tuesday 23rd February) and we'll get a delicious, cheap case of incredible beer dispatched to you same day.
Something Hoppy is a banging core range IPA from one of New Zealand's best breweries.

This case of beer would normally cost up to $100 retail but we've knocked that down to only $75 - including shipping!

Get in quick as we only have 50 boxes available at this incredible price.
---
Get Something Hoppy - Delivered To Your Door
Something Hoppy is an India Pale Ale made with Citra, Azacca, and El Dorado hops that meld over a lovely malt cushion. Sometimes all you need is something hoppy and this is the beer for those times. To be fair, most times are those times.
---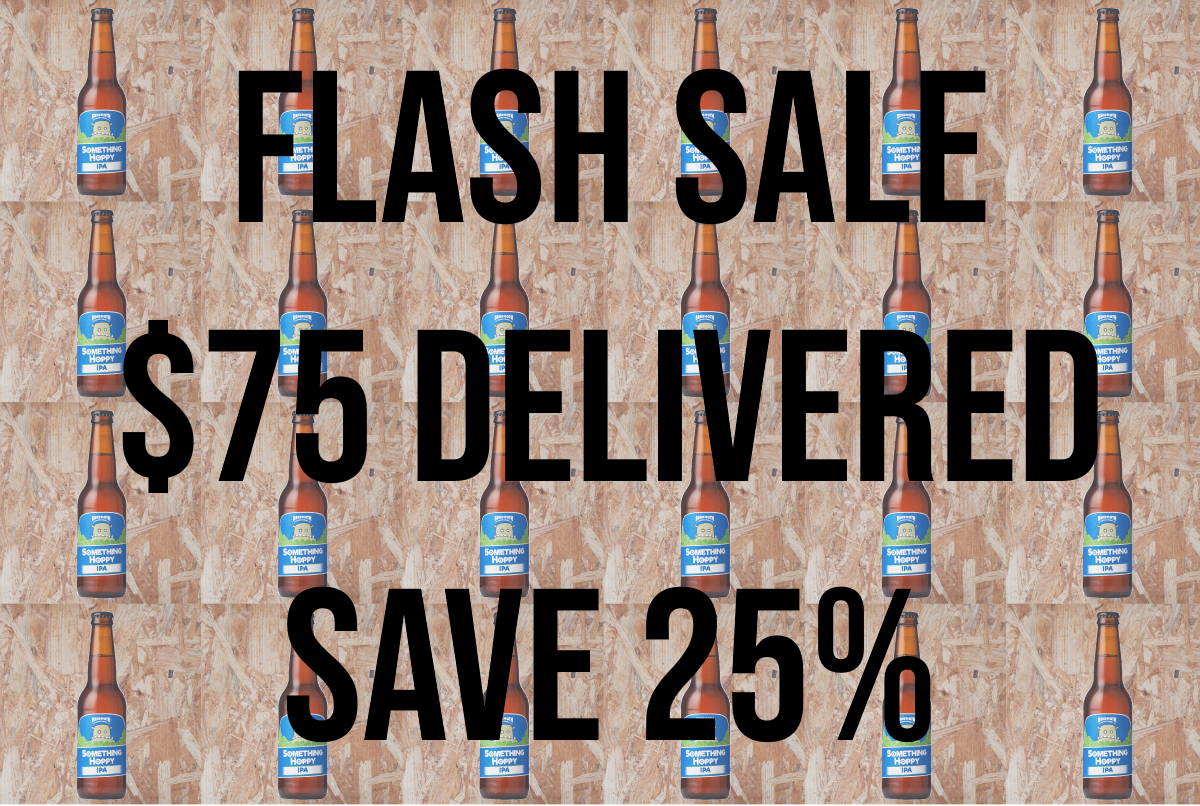 ---
Behemoth Brewing and Andrew Childs are synonymous. He is the founder, brewer, and beer giraffe of Behemoth Brewing Company. But, how did he get this whole thing going? Well, he had been a big fan of good beer for a long time (dating back to when he collected beer glasses as an 11 year old with a paper run) and one day decided to turn his obsession into a career.
Andrew cut his teeth on good beer by having tasting trays of the Tuatara range when he was 19 or 20 at the old Malthouse in Wellington and from then on there was no looking back. He studied to be a lawyer at Victoria University in Wellington, even finishing off his degree in Uppsala, Sweden. But, when he got back to Wellington and found himself working a couple of government legal jobs that bored the hell out of him, he was lost. One New Year's Eve, in the Wairarapa, he told a bunch of friends to give him one resolution each. Paul Harrison, a lifelong friend, said, "you have always wanted to home brew, so why not give it a go?" That gave him the idea and he's been making beer ever since. Turning a hobby into passion and passion into a life dedicated to making bigger tasting beer. Cheers Paul!
In less than a year he quit his job doing legal policy at ACC and went to work at the Fork and Brewer. A massive change and lifestyle but even a hefty 50% pay cut did not deter him. "Yes," he admits, "a law degree is a lot of time and money, but life is too short to not do the things you love doing!"
Fork and Brewer got stuck with delays and brewing wasn't going to start for about a year, leaving him frustrated with the lack of a chance to brew there. So, after 9 months of being behind the bar, it was time to move on (But, go check them out! They are now putting out some AMAZING beers!). It seems that serendipity had a plan and just as he left, he won one of four spots in the Wellington in a Pint Competition; having entered 13 beers (out of the 170 odd entered). Four of these beers made it into the top 30 and two made it into the final 16. The winner at the end was the Celia Wade Brown Ale, a coffee brown ale made in honour of Wellington's Mayor. This beer was then brewed in a commercial size batch with Yeastie Boys. Andrew often states how he cannot thank Stu McKinlay enough for his support at the time. The beer was very popular, but even before that award winning beer, Andrew knew that opening his own brewing company was what he wanted to do. It was the best possible start.
Hot on the heels of this accomplishment, Andrew got offered a job in Auckland as "The Beer Man" for Imake (the parent company of home brew supplies brand, Mangrove Jack's). This involved coming up with beer recipes, marketing and other product development as well as rubbing shoulders with some of his favourite breweries around NZ. Imake is a great NZ owned company and if you are a home brewer, check them out; including the very handy Grainfather brewing system.
Behemoth was born while Andrew was working at Imake; allowing him to save up some cash and brew his first solo commercial brew. This was done at the Twisted Hop. "Thanks to Martin and Lisa Bennett for helping me so much at the early stages," Andrew notes. "We have brewed our beers at quite a few different places over the last few years, places including: The Twisted Hop, The Beer Fountain (Hallertau/Liberty), Kereru, Black Sands, Stainless Brewing, Deep Creek, 8 Wired, B Studio, Steam brewing and are now brewing our beers in our own brewery on Dominion Road in Auckland's Mt Eden. Many of our contract brewing partners have been great to work with, especially 8 Wired and Deep Creek whom we've worked with closely over the years. We wouldn't be where we are without them."
Over the last 7+ years Behemoth has made over 240 beers (and this number grows weekly!); many of those having been small batch, one-offs. Behemoth always loves trying new things and making bigger tasting beers. Life is too short to take too seriously so the only thing we, the Behemoth family, take seriously is bigger tasting beers. Beers that are big, on flavour and fun, and creative, which is shown through our branding and mascot's, Churly, varied attire.
After a successful crowdfunding campaign in 2019, Behemoth moved into their "forever home". With the help of 635 Chur-holders, a brewpub (Churly's) & production brewery now sit on the corner of Dominion Road and Charles Street. With 24 taps there's plenty of space for trying our most recent brew!
It has been a crazy few years (now up to a team of twenty-five!) and we feel so lucky to be able to produce beers that people love to drink. Behemoth will always be coming up with new and interesting beers for you to enjoy. So look out for us, we will likely have something that is fun and tasty.
Chur!
---